What is Sleepwalking?
Sleepwalking is the act of engaging in complex motor behaviors while still asleep. People who are affected by this disorder are difficult to awaken and upon awakening have no recollection of the events that occurred during their period of sleepwalking. This type of behavior mostly occurs during deep sleep or rapid eye movement sleep.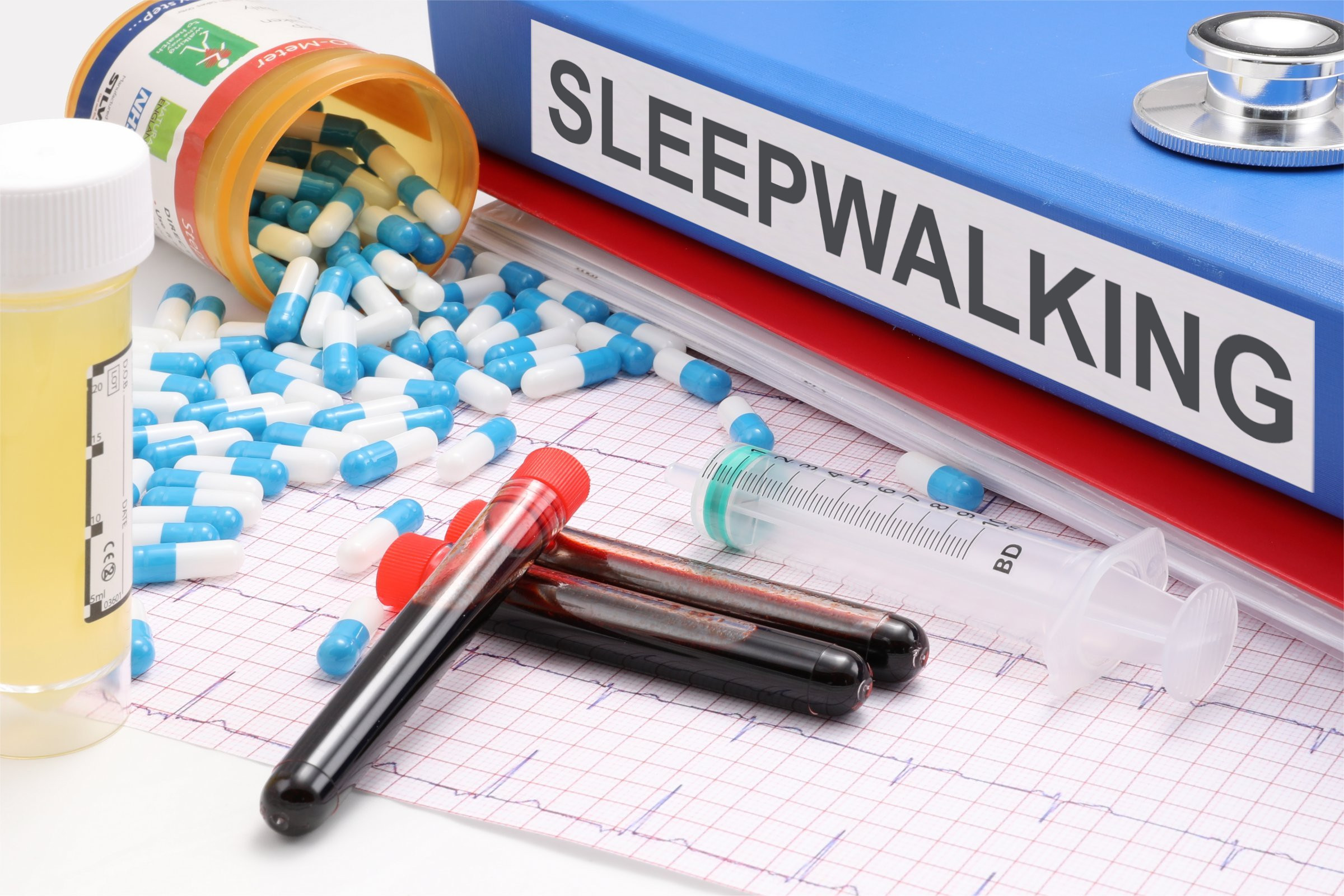 What is sleep paralysis?
Sleep paralysis is a condition in which a person either falling asleep or awakening, temporarily experiences an inability to move, speak, or react. It may occur at one time or another while going to sleep and causes feelings of dread because the individual knows that he is awake but cannot move or call out for
What are the Causes of Sleepwalking?
There is no well-determined cause of sleepwalking. It can become a neurological disorder by nature and in a few cases, it could be induced by psychological stress or traumatic events that occurred in the past. There are several theories that could lead to an explanation for this behavior:
How Can I Prevent Sleepwalking?
By maintaining a regular sleeping pattern, limiting your exposure to stress and anxiety, avoiding alcohol and drugs before going to bed, practicing a relaxation technique immediately before going to sleep.
How Can I Treat Sleepwalking?
If you or any of your family members has been diagnosed with this condition then you should consult a physician who will prescribe the appropriate medication that is aimed at easing the condition. In most cases, it can be controlled by making sure that the patient gets enough sleep and practice good sleeping habits.
Reducing Your Risk of Sleep Walking
Despite advances in technology, medical science has yet to find an effective way of preventing sleepwalking among its sufferers. There are several natural methods for reducing your risk of sleepwalking but unfortunately, medical science has yet to find an effective way to prevent sleepwalking among its sufferers.
There are several ways of reducing your risk of being a somnambulist. Here are some of the best methods for preventing sleepwalking:
Maintain a regular sleeping pattern so that you go to bed and wake up at the same time every day. This allows you to relax before going to bed, which prevents sudden awakenings during your sleep cycle.
Avoid consuming any caffeine or alcohol before going to bed as they act as stimulants and will disrupt your sleep cycle. These beverages also promote snacking late at night which inhibits sound sleep.
Plan out all the things you want to accomplish in the next day so that you can clear your mind off all those distractions when you go to bed; this is known as "closing the day".
Practice good sleeping habits, such as having a relaxing soak in the bath before going to bed; this encourages sleep.
Avoid stress at all costs; it can be the leading cause of many physical and psychological disorders which eventually lead to sleepwalking.
Why you need of sleepwalking prevention devices?
You're not alone if you're curious about devices that help prevent people from sleepwalking. Sleepwalking is a very real and very disturbing problem for both adults and children.
You can use one of these helpful sleepwalking prevention devices to make sure it doesn't happen to you or someone you care about. You have to discover early warning signs. You need to gently wake someone up who has sleepwalked and get them back to bed without scaring them half to death. 
Some people have been known to sleepwalk when they leave the house. There are stories of people walking in the street, or even wandering around at night and hurting themselves by handling sharp objects.
Sleepwalking prevention devices
1) Simple gate
BalanceFrom Easy Walk-Thru Safety Gate for Doorways and Stairways with Auto-Close/Hold-Open Features, Multiple Sizes, White
Multiple Sizes - Choose for openings between 29.1" - 33.8", 29.1" - 38.5", 29.1" - 43.3", 43.3" - 48", 43.3" - 52.7",  43.3" - 57.5", or 57.5" - 62.2"
Easy Installation - No screw needed. Pressure mount design for fast and safety installation while protecting your walls. Product dimensions after assemble from 29.1 - 33.8 inch wide, 30 inch height, 1 inch thick
Convenience - Gate door features an auto-close that gently closes the gate door behind you and a hold-open feature that keeps the door open
Durability - All steel gate is durable and convenient with a walk-through door. The gate is fully compliant with all USA Safety standards
Last update on 2022-10-04 / Affiliate links / Images from Amazon Product Advertising API / Disclosure: We may get a commission from retail offers.
2) Door alarm
Bestseller No. 1
Last update on 2022-10-04 / Affiliate links / Images from Amazon Product Advertising API / Disclosure: We may get a commission from retail offers.
3) Door safety lock
Sale
SABRE HS-DSA Wedge Door Stop Security Alarm with 120 dB Siren --- Great for Home, Travel, Apartment or Dorm
The Product does not come with batteries ATTENTION-GRABBING – when door pressure is applied, the extremely loud 120 dB alarm helps wake/alert homeowner or renter, helps deter intruder and possibly notifies neighbors...
VERSATILE WITH MAXIMUM SECURITY – features a non-skid pad to prevent door from opening while alarm sounds; ideal for bedrooms, hotels, apartments, dorm rooms, front doors, etc. - great travel alarm
ATTRACTIVE & CONSUMER-PREFERRED – superior to other home security products, this premium white alarm looks great inside your home
EASY INSTALLATION – no wiring needed; battery-operated (requires 1x9V battery); small screwdriver required to remove battery compartment cover
Last update on 2022-10-04 / Affiliate links / Images from Amazon Product Advertising API / Disclosure: We may get a commission from retail offers.
4) Floor mat alarm
Bestseller No. 1
Wyze Cam v3 with Color Night Vision, Wired 1080p HD Indoor/Outdoor Video Camera, 2-Way Audio, Works with Alexa, Google...
Color night vision: An all-new Starlight Sensor records night time video in full, vivid color. The Starlight Sensor can see full color in environments up to 25x darker than traditional video cameras and the new f/1.6 aperture...
Indoor/Outdoor: Wyze Cam v3 is a wired video camera with an IP65 rating so you can confidently install it outside in the rain or inside in the kids' room. Wyze Outdoor Power Adapter (sold separately) required for outdoor...
Motion & Sound detection: Wyze Cam records video when motion or sound is detected and sends an alert straight to your phone. Motion Detection Zones and custom settings allow you to adjust the sensitivity of detection or turn...
24/7 Continuous Recording: Continuous video recording with a 32GB MicroSD card (sold separately). Just insert the MicroSD into the base of the Wyze Cam and you're all set.
Last update on 2022-10-05 / Affiliate links / Images from Amazon Product Advertising API / Disclosure: We may get a commission from retail offers.
5) Motion sensor
Bestseller No. 1
Lewis N. Clark Travel Door and Window Alarm with Flashlight, Blue, 2 Pack
LOUD + ATTENTION GRABBING: High pitched 91 dB sounds when the home alarm is triggered. Loud enough to alert your neighbors, wake you up, and deter would-be thieves
MAXIMUM SECURITY + VERSATILITY: Stay safe at home and while you travel. Perfect alarm system for front door, bedroom, apartment, dorm, or hotel. Can also use in windows.
EASY SET-UP: Hold the thin blades together and slide them into the crack between the door and doorframe, loop the cord around the door handle, and set alarm. It's that simple, even your kids can do it.
COMPACT + PORTABLE: Perfect hotel door alarm and theft deterrent for your next vacation. Small and weighs less than 2 ounces. Easily fits in your suitcase, briefcase, backpack, laptop bag, or purse.
Last update on 2022-10-04 / Affiliate links / Images from Amazon Product Advertising API / Disclosure: We may get a commission from retail offers.
Final Thoughts on How To Prevent Sleep Walking
Whether you already suffer from a sleeping disorder or you don't want to take the chance of getting one, following these tips for reducing your risk of sleepwalking is probably a good idea.
These will help to ensure that you get a healthy amount of sleep every night and make it less likely that you'll engage in any unnatural behavior while asleep. When your body is tired it's important not to neglect its needs so by getting enough rest on a regular basis, there's no need to worry about falling victim to some kind of sleeping disorder.