Have you ever thought about investing in a fire extinguisher built especially for putting out car fires? Whether you are on the road, a race track or even off-road, Fire extinguishers should become a fundamental part of your safety procedures.
Even if you have not had a personal experience with it, the chances that your car may catch fire are still there. A fire extinguisher can save your life if such an unfortunate situation arises. Additionally, it will also equip you with the power to help others in a similar situation.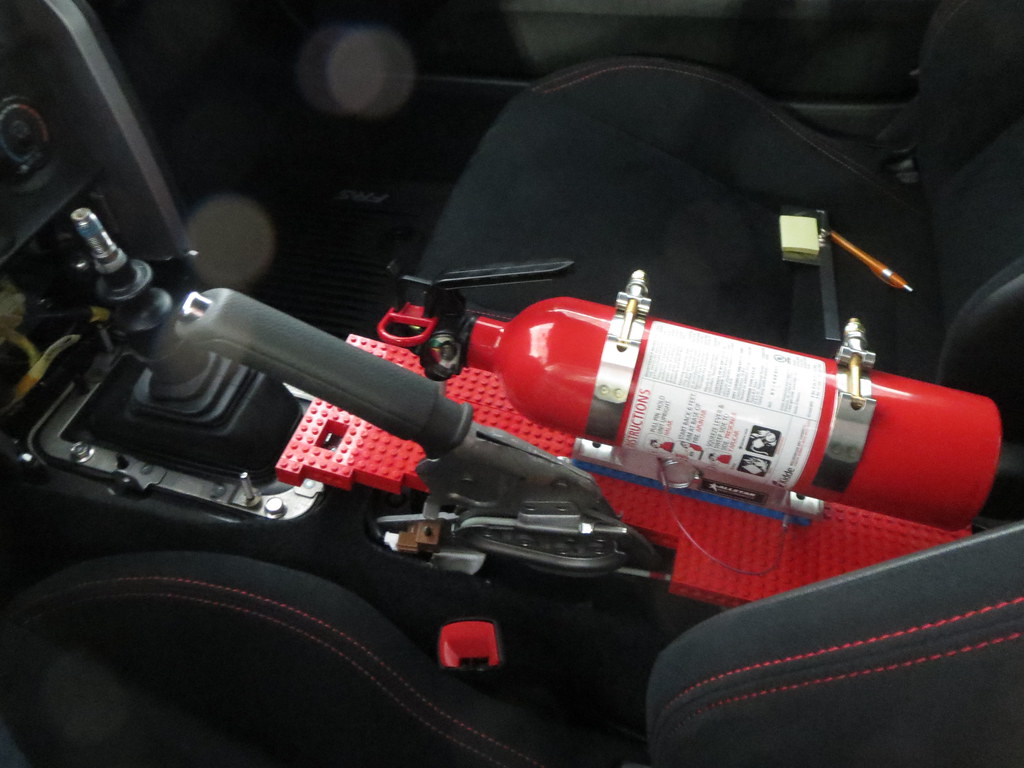 Buying the best fire for a car can be a daunting process. There are just too many on the market right now. To help you get started, we have listed our top 5 choices along with a brief review.
Each product has been chosen after careful evaluation with meticulous attention to detail. To help you make better-informed decisions, we have also listed the pros and cons of each product separately. So let us dive into our top 5 choices.
Things To Consider While Buying Fire Extinguishers For Cars
Now before you invest in a fire extinguisher, you need to consider a few basic features that it ought to have.
1. Size and weight
Considering the right size and weight of a fire extinguisher is very important. You need something compact, lightweight and easy to travel with. Go for a small, elongated cylinder that can easily be stored and also be within your arm's reach.
2. Type
Fire extinguishers are classified into three basic categories;
Class A Fires: Lowest risk category to put out the fire caused by combustible substances such as paper and wood.
Class B Fires: To put out fires caused by flammable liquids such as paint or gasoline. May cause car damage if not contained immediately. A foam extinguisher is used for Class B fires.
Class C Fires: To put out fires caused by electrical components.
You should get a Class C fire extinguisher for your car since most car fires are due to faulty electrical wirings.
3. Durability
You should get a fire extinguisher that can withstand accidental falls. Aluminium-bodied cylinders are recommended because they are light, durable and corrosion-resistant.
4. Discharge time
Make sure that the extinguisher has a powerful trigger that will allow a controlled and a fast discharge that will ensure that it delivers the foam efficiently.
5. Accessibility
The fire extinguisher should be accessible to use both by adults and children alike. Go for a fire extinguisher that is simple yet retains all the fundamental features.
5 Best Fire Extinguishers For Cars
Keeping in mind the value for money list of 5 best fire extinguishers for your cars have been listed below. You can go through their complete details to pick the best that meets your needs.
H3R HG100C HalGuard Chrome Fire Extinguisher
H3R HG100C HalGuard Chrome Fire Extinguisher
Last update on 2021-05-11 / Affiliate links / Images from Amazon Product Advertising API / Disclosure: We may get a commission from retail offers.
1. H3R Performance HG100C HalGuard Chrome Clean Agent Fire Extinguisher
One of the most effective Vehicle Fire Extinguisher on the market currently, it does not come with usual red but is aesthetically pleasing with a classy chrome exterior. Weighing only 3.4 pounds, this product is lightweight and easy to travel with. It also features a steel strap and mounting bracket, making it very easy to install in your car. It comes with a set of instructions that makes it very easy to use.
Manufactured with high-quality steel cylinders, it is very durable. Furthermore, it leaves no thermal shock to electronics, puts out hard-to-reach fires and does not impair the user's vision. These fire extinguishers should be recharged by a professional.
However, It is a little on the pricey side and the pin may fall out if not correctly inserted.
Pros
Comes with an easy-to-follow set of instructions
Uses liquefied gas to put out hard-to-reach fires
Aesthetically pleasing design
Lightweight and easy to travel with
EPA approved and BC-rated
Five years warranty
Cons
Slightly expensive
A shorter maximum range
The pin may fall out if not correctly inserted
2. Kidde 21005779 Pro 210 Fire Extinguisher
If you are on the lookout for a more kid-friendly Fire Extinguisher, the Kidde 210 Pro is your safest bet. One of the largest automotive fire extinguishers that weigh around 4 pounds, can be tucked away nicely in your car's trunk and can't be easily used by kids. Whether you want to put out fires caused by wood or oil, Kidde Pro 210 will come to your rescue. Manufactured with a sturdy and corrosion-resistant aluminium body, it is very travel friendly.
Coming with a 6-year warranty, it is also rechargeable and can safely be used for a couple of years.
The discharge rate is very impressive at 13 to 15 seconds. Additionally, this car fire extinguisher comes with a bracket that can be used to hold and support it. The downsides to it are that it might be too heavy to carry by children and require checkups regularly.
Pros
Rechargeable product
A good sturdy build
Slightly heavy so kids cannot play around with it
Clear instructions printed on the model
6 years warranty
ABC-rated
Cons
Require regular checkups
Cannot be used by kids in case of emergencies
3. Amerex 240, 2.5 Gallon Water Class A Fire Extinguisher
Best for putting out fires created due to ordinary combustion, the Amerex 240 is a powerful fire extinguisher that will cater to all your needs.
It comes with a bracket that can be used to mount it on and provide support. It comes with a detailed set of instructions that makes its installation very easy. The most impressive feature about Amerex 240 is the discharge time which is only 55 seconds. It is suitable for large fires because it penetrates from a distance of 45 to 55 feet.
It comes in a sturdy and corrosion-resistant packaging of stainless steel and does not leave any residue. Additionally, it doesn't distort the operator's visibility and comes with a 5 years warranty. However, it does not very travel friendly and does not come with a mounting bracket.
Pros
Easy-to-follow set of instructions
Rechargeable model
Fast discharge time
Covers maximum distance
5 years warranty
ABC-rated
Comes with a wall bracket
Cons
Not easy to travel with
Does not come with a mounting bracket
Might cause vehicle damage because the container does not come with a padding
4. First Alert FIAFESA5 Auto Fire Extinguisher
Being the top producers of Fire Extinguishers, our list is bound to include a model by First Alert. This automatic fire extinguisher is one of the best CO2 fire extinguishers for a car. It is very effective for category B and C fires and comes with a five years warranty. The best thing about FIAFESA5 is that it comes with a mounting bracket which makes it very easy to store and hang.
The features that make this extinguisher stand out from the rest is that it is very compact and lightweight at only 2.2 lbs. It is more like a mini fire extinguisher making it very easy to travel with. Additionally, children can also use it in times of emergencies because it is so light. The packaging is very durable. However, it is only suitable for one-time use and cannot be refilled.
Therefore, if you are looking for a lightweight product on-the-go, FIAFESA5 is the model to get.
Pros
Compact and lightweight
The perfect product to get for on-the-go
Comes with a mounting bracket
Suitable for both flammable liquids and electrical types of equipment
5 years warranty
Can be safely used by kids
Cons
For single use only
Not suitable for heavy-duty work
Smaller holding capacity
5. Amerex B417T Car Fire Extinguisher
Equipped with a 4.5 decade of experience, Amerex's Vehicle Fire Extinguishers are some of the best on the market. Although it is a larger fire extinguisher, it is very effective out of all category fires with a dry chemical agent, Ammonium phosphate. With a pressure of 195 PSI, it is a fast discharge time of 10 seconds. The model is also rechargeable and will last you for a couple of years. The aluminium packaging is sturdy and corrosion-resistant.
The downsides to Amerex B417T are that it leaves residue behind and the pressure reduces over time. However, for the price, it comes that, this model is practically a steal.
Pros
ABC-rated Fire Extinguisher
The fast discharge time of 10 seconds
Rechargeable
Cons
Pressure reduce in the long run
Not very travel friendly
Does not come with a fire extinguisher hook
Frequently Asked Questions (FAQs):
A few common questions that come to the user's mind have been listed below.
1. Do I need a Fire Extinguisher for my car?
A fire extinguisher is a vital aspect of safety precautions for driving. Even if you are not in any imminent danger, a car fire extinguisher may come in handy should an unfortunate situation arise.

2. How does a fire extinguisher operate?
The product which is propelled cuts off the oxygen supply of the fire and contains it.
3. What extinguishing agents are used in fire extinguisher?
The main extinguishing agents used in fire extinguisher are dry chemical, water, foam, wet chemical, halogenated materials and Carbon Dioxide.

4. What do the fire extinguisher colour codes stand for?
Colour codes on the models stand for the extinguishing material used. Red stands for water, blue stands for dry powder, yellow is for foam while black stands for Carbon Dioxide, green stands for vaporizing liquids and yellow stands for wet chemicals.

You may brush off the significance of a Car fire extinguisher but you will never know when you will have to use it.
It is always better to be safe than sorry. We have listed our top 5 recommendations on this list. Carefully go through the pros and cons of each model and choose one that will best cater to all your needs.